Welcome to Year 2
Our main aim as teachers at Eastwood is to build brighter futures together. We hope that you find our website page both useful and informative. We aim to educate, inspire and motivate our young children so they can blossom and enjoy their learning.
Miss Saleem (Phase leader for KS1) and Mrs Jahangir will be teaching in Year 2.
Associate staff working in Year 2 are:
Mrs Waters, Miss Hopkinson,
Miss Asma , Miss Zulaikah and Miss Sadia.
Well done to these children who have been nominated by their peers to have an extra responsibility.
We are extremely proud of you and wish you good luck for your new role.
Junior Leaders: Mhd Abdul and Simran (2SJ) Izabella and Ramzan ( 2RS)
Sports Councillors : Jeffrey (2SJ) Rahat (2RS)
Culture Councillors: Summayah ( 2SJ) Inaya (2RS)
Library Monitors: Marcus (2SJ) Scarlett (2RS)
Take a look at some of our displays in our classrooms.
AUTUMN 2 : OUR THEME IS LONDON.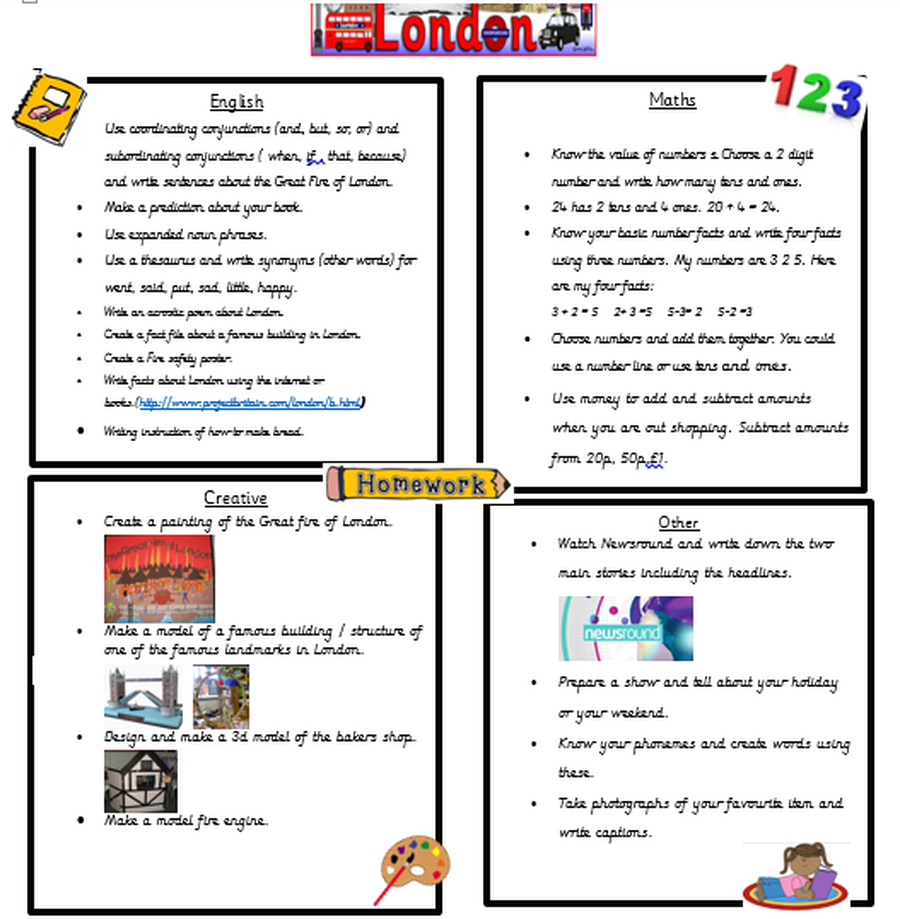 Theme
In our Theme lessons we will be learning about a significant event that occurred in 1666- The Great Fire of London. We will be reading extracts from Samuel Pepy's diary and finding out what happened during that time and how people in London were affected. We will compare what life was like living in the past to the present day. We will also be learning about famous landmarks in London and creating 3D models of London's famous landmarks such as the Big Ben, London Eye and The Tower Bridge.
English
This half term in English, we will be learning to write diaries focusing on key events that happened during the day and feelings. We will also be learning about newspaper reports based on the Great Fire of London in 1666. Our work will be based around the book Toby and the Great fire of London.
Maths
Our focus for this half term is Arithmetic and the four operations: addition, subtraction , multiplication and division.
We will be recalling number bond facts to 10,20, and 100 and learning doubles up to 20.
By the end children should be able to :
1. Solve a range of problems involving numbers, measures and quantities.
2. . Add and subtract numbers using concrete objects and pictorial representations including a 2-digit number and ones, a 2-digit number and tens, two 2-digit numbers and adding three 1-digit numbers.
3. Solve problems involving multiplication and division, using materials, arrays, repeated addition, mental methods and multiplication and division facts.
Autumn Term
Theme (Topic)
Our theme this half term has been: 'Pirates.' We have been researching about famous pirates and have been discovering facts using the internet and books. We have discovered many facts about pirates. We have compared two famous pirates Pirate Anne and Blackbeard thinking g about the similarities and differences.
Pirate Day 16th October 2017 was fantastic!
During the day we took part in a a range of activities which included:
Treasure Hunt - In groups, we used i pads (qr code reader) to find the answer some pirate questions.
We followed some challenging riddles the clues to find the hidden treasure which was hidden outside the OLC.
A pirate sing-a- long - We learnt a few pirate songs and learnt a few pirate sayings.
An interactive workshop - Mr Fellowes came in and we acted out the story of Treasure Island.
Take a look at some of our pictures from Pirate day!
Maths
Our Maths topic this half term has been all about the place value of numbers. We have been recognising, counting, ordering, sequencing and understanding the value of numbers. We have solved a variety of problems and used our number and place value facts to complete maths investigations. Some of us have used base ten equipment to represent numbers to understand the value of digits. e.g 14 = 1 ten and 4 ones. As well as this every Friday, we have practised our arithmetic skills.
All children in Year 2 must be able to:
Count in 2s,3s,5s,10 from zero forwards and backwards to 100.
Know their times tables for 2s,5s and 10s.
English
In our English lessons, we have been studying a book called Pirate Pete and have been learning about settings, characters and fictional stories. We have made predictions and used our comprehension and inference skills to find about characters. In the lessons, we have been working on using coordinating and subordinating conjunctions.
Coordinating conjunctions are used to links sentences together. These are : and, but, so , or.
Subordinating conjunctions are used to add extra information. These are: when, if, that, because.
We have produced a character description all about Pirate Pete using expanded noun phrases and a range of writing features.
Science
In our Science lessons, we will be working with a range of different materials. We will be sorting and classifying materials based on their properties. We will be learning about recycling and why it is important to reduce, reuse and recycle materials. At the end of the unit children will produce a piece of writing to explain the process of recycling.
Outdoor Learning
We are very fortunate to be able to experience a range of fascinating outdoor learning activities thanks to Mrs Smith. This half term the children have the opportunity to develop their skills in the following three activities which are:
Woodlands - To explore the environment and use everyday materials to create masks.

Allotment - To know the names of plants and pulling out weeds. To develop drawing and sketching skills.

Problem Solving - To develop our reading, thinking and problem solving skills to search for clues. To be able to use QR codes
Enrichment
In Enrichment have been using our creativity skills to design and make pirate ships, pirate swords, hats and other items.