Welcome to Year 4
The teachers in Year 4 are Mr Hawker, Miss Wright, Mrs Aisha, Miss Juwwayria,
Mrs Shanaz and Miss Sadia.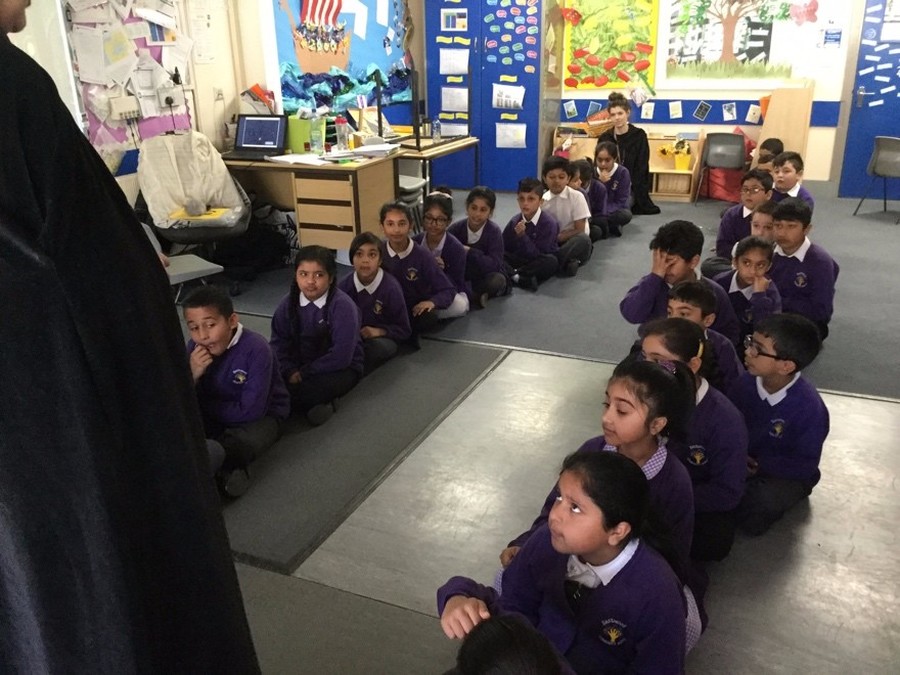 Summer Term
Currently, we are learning about Vikings. As a part of our English lessons, we have been studying Brave in which we are learning about settings, characters and the structure of fictional stories so that we can write our own fictional adventure story involving a hero or heroine. We have been developing our descriptive writing as well as developing the skills which we learnt last term. In Theme, we are exploring the chaotic lives of the Anglo Saxons and the always-interesting Vikings. We even had a visit from a real life Viking in which we explored the story of Beowulf through drama. We are learning about how the Vikings came into power through reading, drama and investigation challenges using ICT. We are also going to design and create our own Celtic patterns using a range of materials as well as working in groups to build our own Viking longboats with the aid of recycled materials.
In Science, we are learning about electricity. We will learn what electrical conductors and insulators are. Using simple electrical apparatus, we will investigate which materials are electrical conductors and which are insulators. Additionally, we will learn what an electrical circuit is. Using simple apparatus, we will look at illustrations of 5 different circuits and attempt to create them using a wind range of equipment including buzzers and batteries.
Spring Term
In Spring Term, we learnt about Africa. As a part of our English lessons, we studied The Lion King in which we learnt about settings, characters and the structure of fictional stories so that we could write our own fictional adventure stories about an animal living in Africa. In Theme, we compared the lives of children living in Africa to our lives in the UK by using our research skills to find out information about homes, jobs, daily life and diet. We utilised our links with the Jolaurabi School in Kenya to support and deepen our knowledge and understanding. We also created cultural masks using a range of different materials including papier-mâché, researched African artists and worked collaboratively with our peers to create African mud huts. In Science, we learnt about living things and the ways in which we can classify living things, for example, using Venn and Carroll diagrams. In order to further develop our scientific enquiry skills, we visited the Yorkshire Wildlife Park in Doncaster and saw lots of marvellous animals including giraffes, lions, rhinos, zebras and meerkats. We also participated in a workshop in which we learned about a range of different habitats and were allowed to handle a hissing cockroach, African Giant Snail and a python. What a fantastic day!
Autumn Term
In the Autumn term, our theme was Kaleidoscopic. We found out lots of information about different artists and created a range of artwork using colours, patterns, materials and different techniques. We also created our very own kaleidoscope alongside a piece of instructional writing which showed other children how to make a kaleidoscope. In Science, we learnt about sound. We thought carefully about how sound travels and designed and made our own musical instruments using recyclable materials. We also listened to pieces of music and thought about how they made us feel. We then chose colours to represent those feelings and created sound art using paint. In English, we read the story The Day the Crayons Quit which we thoroughly enjoyed. We found out why Duncan, the main character, crayons had quit and then tried to persuade them to take back their jobs by writing a letter to them. In Maths, we learned about the four operations and their formal methods whilst working hard to recall all of our times table facts. Year 4 have made great progress towards their targets this half term! Well done Year 4, keep up the good work!