Your teachers are:
6DH 6NW
Mr Hawker and Miss Rukhsana Miss Wright and Miss Ahmed
Miss Vickers and Miss Brunskill
Year 6 Long Term Plan 2017
Summer Term
This term, our theme is Conflict and War in which we will be learning about what life was like for people during World War 2. We will be reading Farther by Grahame Baker-Smith in English and finding out how war affected the people involved. Through theme, we will be exploring World War 2 propaganda, how Anderson Shelters were made and why people needed to ration. As part of our learning, we will be having a 1940's day, dressing up as evacuees and sampling food from during the war. We will also be participating in a D-Day Landings Workshop with Alex Fellowes.
This half term, we are also preparing for our transition to secondary school. We will be visiting our new schools, meeting our new teachers and taking part in some transition workshops so that we are ready for Year 7. As part of our transition work, we will be visiting Doe Park in Denholme to learn how to kayak, build rafts, race dragon boats, climb and complete an aerial obstacle course. These activities will help to boost our self-esteem and confidence, encourage trust and team work and experience new things! We can't wait!!!
Spring Term 2
In Spring Term 2, the Year 6 theme has been based around Journeys (Ready, Steady, Go!). Our theme lessons have enabled us to develop our reading, writing and grammar across the curriculum in exciting and innovative ways whilst developing our skills as budding historians and geographers. In History, we have used a variety of sources to learn about the Titanic disaster as well as learning about the ocean and natural disasters in Geography. Art has been centered around the fantastic artwork by Hokusai and his remarkable The Great Wave off Kanagawa. This has linked fantastically with the Theme, Year 6 has been reading the superb Kensuke's Kingdom by the prodigious Michael Morpurgo in English. Kensuke's Kingdom was a treat for lovers of drama-filled stories. It tells of how a young boy named Michael mysteriously disappears the night before his twelfth birthday. The next morning, Michael finds himself washed up on a beach on a remote island with a bowl of water and some grilled fish next to him. He suddenly remembers the night before and memories flash past him as his faithful dog, Stella Artois greets him with a big, slobbery lick! Michael soon realises that he is not alone... Throughout this term, we have also focused on SATs-style questions in Grammar, Reading and Maths. Much of our maths work has linked to algebra objectives as well as learning about ratio, percentages and data-handling.
Spring Term 1
In Spring Term 1, our theme was Construction: Let's Get Digging. Our theme lessons enabled us to develop our reading, writing and grammar skills across the curriculum in exciting and innovative ways whilst developing our skills as budding historians and geographers. We found out about many famous landmarks including the Eiffel Tower, The Statue of Liberty and the Taj Mahal and created presentations and 3D models. In English, we studied The Paperbag Prince. This beautifully illustrated book provided us with many opportunities to develop our understanding of reading and grammar. In Maths, we mastered simplifying, multiplying, adding/subtracting fractions. We found out how vital it is to know and be able to recall times tables facts as this helped aid our learning! Our Science topic this half term was Magical Materials. In the lessons, we have developed our scientific enquiry skills through experiments. We have a good understanding of the scientific terms and concepts such as: soluble/insoluble, reversible/irreversible changes and separating materials.
Autumn Term 2
We worked tremendously hard this term which allowed us to make excellent progress across all subjects.It has been brilliant working with the new Year 6 and the staff are very happy with the enthusiasm pupils are showing us each day.
This term we looked at learning about the environment and this included an exciting trip to Bolton Abbey- where we used maps, sketched the environment and took part in team building exercises. This trip also linked to our work in class where we were learning about the journey of a river, using Ordinance Survey Maps and using an atlas to find key information. Our English tied in beautifully with this theme as we were learning about volcanoes through the text On Dangerous Ground while developing our reading comprehension skills with a particular focus on inference and justifying our answers with evidence from the text. We moved on to a beautiful book named The Promise which delved deeper into city-life and how everyone can change if they want to. In Maths we are focused on calculations using the four operations to apply our understanding to many deeper learning tasks (which proved very challenging in the beginning!).
Autumn Term 1
In English we studied the wonderful story "There's a Boy in the Girls' Bathroom". We made predictions on the text and analysed sections of the story with a focus on providing evidence to support our answers. In Maths, we developed our Number and Place Value skills. We also learnt how to recognise decimal numbers as well as numbers up to 10,000,000! In Science we answered the question "Is change a good thing?" with the focus being on Evolution and Inheritance. Theme lessons concentrated on the Shang Dynasty which we all found extremely interesting and this provided lots of opportunities for group discussions.
6DH working together in order to solve some tricky problems during Outdoor Learning.
6NW visited Cliffe Castle Museum as part of the Science Topic: Inheritance and Evolution. We participated in a workshop and explored the museum. We found different fossils and thought carefully about how species have evolved and adapted to their environment over time.
Year 6 pupils' Habiba and Rabia showing off their fantastic inference and retrieval skills. Keep up the good work!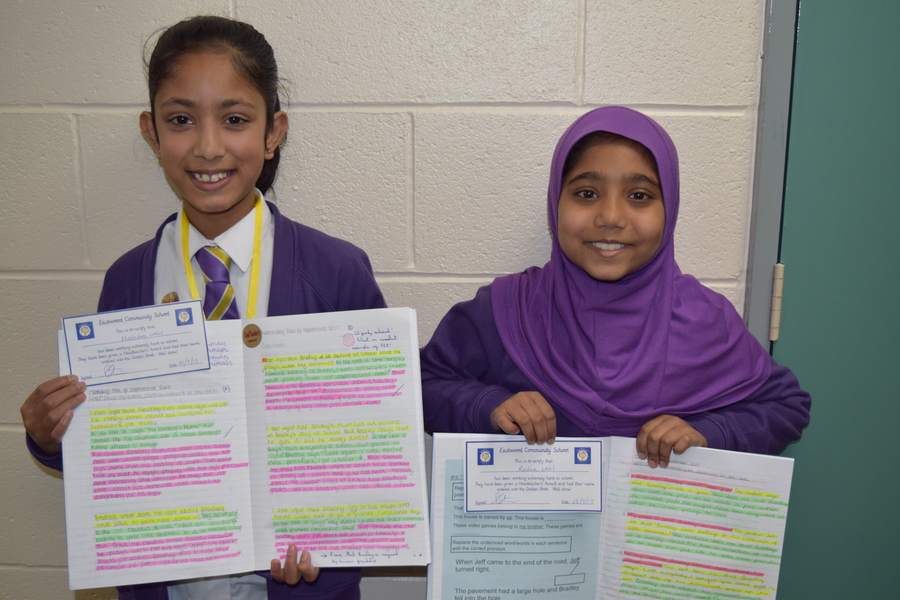 A glimpse into the life of Year 6....
As you can see in the pictures, our working walls are coming along nicely and they showcase our progression in the first weeks of the Autumn term. Habiba, who has her colourful work displayed in the slideshow, has been producing fabulous work in English. She has demonstrated excellent inference skills and provided evidence to support her views. In English, we have also been focusing on writing, and modifying, complex sentences. The fantastic work featured in the slideshow shows the standard of work which is expected from all our pupils.