We currently have vacancies for our 30 hour free childcare. To find out more please contact the school or visit https://childcare-support.tax.service.gov.uk/par/app/extendedentitlement
Welcome to Nursery
The teachers in Nursery are:
Mrs A Kozlow (EYFS Lead/Teacher) Mrs A Budimir (Teacher)
Mr J Holmes (Nursery Nurse) Mrs M Shazad (Teaching Assistant)
Miss Kulsumah (Teaching Assistant) Miss Shaida (Teaching Assistant)
Miss Sameera (Interventions Teacher) Miss N Sadiq (Teaching Assistant/special needs support)
Autumn Term 1
Our theme for this half term in nursery is Elmer the Elephant. We have been reading Elmer stories and learning lots of elephant songs and nursery rhymes. Our new children are settling into nursery really well and are learning the nursery routines. We have been painting elephants, printing with lots of different colours and making junk models. As part of our weekly routine we have been going shopping to Asda for nursery snack and also having our own bake off each week. We have been learning to cut with scissors and chop up cooking ingredients.
Outdoor learning adventures on the minibus have begun and all the children will get a chance to go out with our staff and the Outdoor learning team.
Autumn Term 2
Our theme for this half term is homes and building. We have been reading a playhouse for monster and little mouse twitchy whiskers. In the Design and technology area we have been making houses out of junk, sticking windows and doors on and painting them. There have also been lots of opportunities to build houses and buildings with different construction materials. Outside we have been building dens for us to play in and then having our snack outside in the den.
For outdoor learning a continuation of our minibus adventures will take us to Riddlesden woods. We will explore and walk through the woods, looking for things that are changing in our environment and collecting leaves and conkers. We will be making a den in the woods and having hot chocolate and snack in our self built den.
The children are practising singing some songs that have a cold theme for example' Five Little Snowmen Fat ' and we will be performing these to mums, dads, family and friends in December. Look out for the date on our newsletter .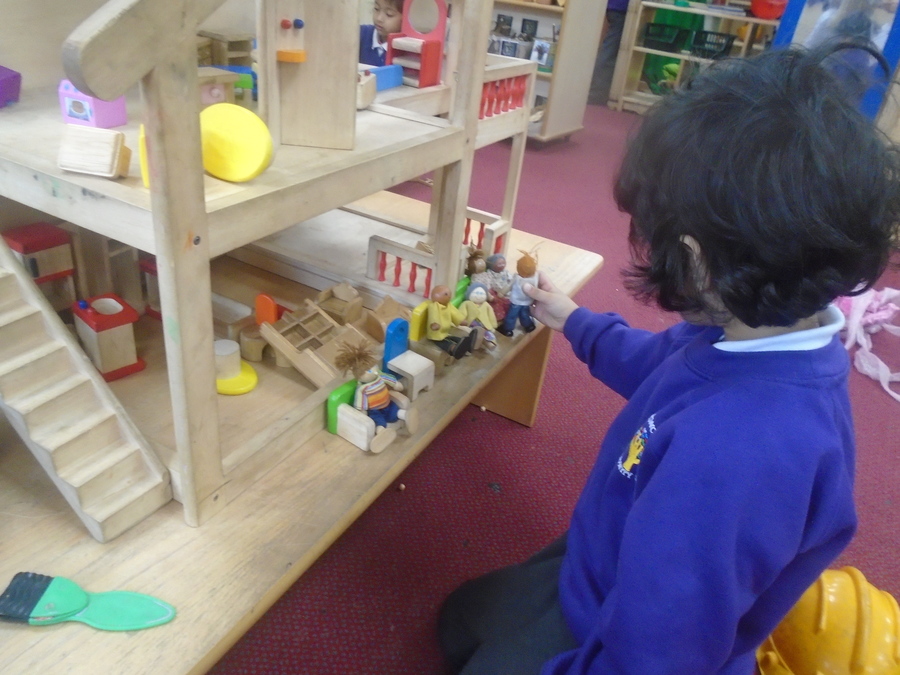 We are all really working hard at reading stories and retelling them using actions and drama. The children are becoming very involved learning all of the characters names and how they feel. The children are encouraged to ask lots of questions about their learning and we are trying to use reasoning to explain things using sentences with 'because'.
See below how focused we are when we re-read the story.