Your teachers are:
6DH 6NW
Mr Hawker and Miss Rukhsana Miss Wright and Miss Ahmed
Miss Brunskill, Mr Ali and Miss Cowen will be working with both Year 6 classes.
Year 6 Long Term Plan 2017
This is our Autumn 1 homework menu...
Autumn Term
We have been working tremendously hard this term which has allowed us to make excellent progress across all subjects.It has been brilliant working with the new Year 6 and the staff are very happy with the enthusiasm pupils are showing us each day. In English we are currently studying the wonderful story "There's a Boy in the Girls' Bathroom". We have made predictions on the text and have been analysing sections of the story with a focus on providing evidence to support our answers. In Maths, we are in the process of looking at Number and Place Value. We are learning how to recognise decimal numbers as well as numbers up to 10,000,000! In Science we are answering the question "Is change a good thing?" with the focus being on Evolution and Inheritance. In Theme, we have concentrated on the Shang Dynasty which has been extremely interesting (so far) and provided lots of opportunities for group discussions.
6DH working together in order to solve some tricky problems during Outdoor Learning.
6NW visited Cliffe Castle Museum as part of the Science Topic: Inheritance and Evolution. We participated in a workshop and explored the museum. We found different fossils and thought carefully about how species have evolved and adapted to their environment over time.
Year 6 pupils' Habiba and Rabia showing off their fantastic inference and retrieval skills. Keep up the good work!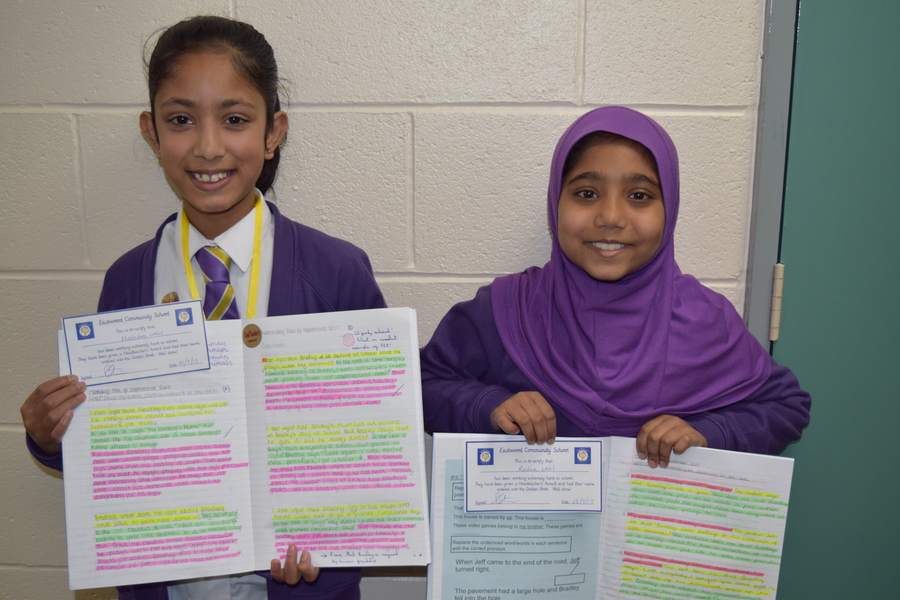 A glimpse into the life of Year 6....
As you can see in the pictures, our working walls are coming along nicely and they showcase our progression in the first weeks of the Autumn term. Habiba, who has her colourful work displayed in the slideshow, has been producing fabulous work in English. She has demonstrated excellent inference skills and provided evidence to support her views. In English, we have also been focusing on writing, and modifying, complex sentences. The fantastic work featured in the slideshow shows the standard of work which is expected from all our pupils.